Our story starts in 1948 when Dr. Bader opened the doors while Washington Avenue was still a dirt road. Avenue Vision is truly a product of Golden: the most up-to-date technology with a strong respect for our past. Current owner, Joe Borden, OD, attributes his passion for vision therapy and pediatrics to being an office assistant and vision therapist for past owner, Eva Strube, OD in the '90s. Our passion for helping the Golden community and supporting small local businesses shines through in everything we do. We are most proud of our Give Back Days (offering free eyecare for those in need twice a year) and creating glasses by hand to increase quality and reduce cost for our patients.
Meet the Team
Joseph F. Borden, O.D.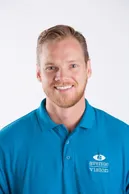 Dr. Borden, a Golden native, completed his Optometry degree at Southern College of Optometry in Memphis, TN in May 2009. As a member of the College of Optometrists in Visual Development (COVD), Dr. Borden has extensive background in binocular vision and received the COVD Excellence in Vision Therapy award. Dr. Borden has also received specialized training at Harvard Medical School for Sports Vision and was the Director of Sports Vision at Hellerstein and Brenner Vision Center, P.C. in Centennial, Colorado.
Dr. Borden is an active Golden community member. He has served on the board of the Chamber of Commerce and was Golden's Young Professional of the year in 2018. He is an avid sports enthusiast and played soccer at the collegiate level.
---
Megan N. Borden, OD
Megan Borden, O.D. graduated from Southern College of Optometry in Memphis, TN. She is Board Certified. Dr. Borden currently serves as Trustee on the board of the Colorado Optometric Association and has served on the Board of Directors for the American Board of Optometry. She is an active member of the American Optometric Association as well as the Colorado Optometric Association. She completed 2 internships in pediatrics and vision therapy and also has a passion for primary care and contact lens. In her free time she enjoys spending time outdoors with her husband, Dr. Joe Borden and their two children.